A Virginia Tech professor is organizing an event next week in Blacksburg that will explore the green burial movement. WFIR's Velvet Hall says it includes the documentary "Dying Green" and an expert panel discussion…

The Salvation Army is holding a Red Kettle Matching Challenge Race next month to help supplement the organization's low donations in December. Velvet Hall has details…
Click here for more information about the Red Kettle Matching Challenge Race in Roanoke on April 6, 2014.

RICHMOND, Va. (AP) _ If potholes are any measure, it's been a hard winter in Virginia. AAA reports that it responded to nearly 9,000 tire-related calls in January and February, up 10 percent from those two months in 2013.
AAA Mid-Atlantic says the snow and cold have created vehicle-jarring potholes on road surfaces around Virginia. In February alone, the auto club fielded nearly 4,000 calls from drivers who blew a tire or reported other damage because of potholes.
AAA advises motorists to slow down so they can detect and avoid potholes.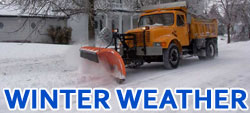 SALEM, Va. (AP) _ The Virginia Department of Transportation says a mix of snow, sleet and freezing rain is creating slick roads in part of western Virginia. Officials said early Friday that snow plow operators have been responding overnight in affected counties in the department's Salem district. Crews are currently focusing efforts on primary roads.
The 12-county district includes the counties of Bedford, Botetourt, Carroll, Craig, Franklin, Floyd, Giles, Henry, Montgomery, Patrick, Pulaski and Roanoke.
VDOT is encouraging drivers to delay travel until the winter weather has passed and crews have had time to treat roads. Real-time road condition information is available at www.511Virginia.org.
RICHMOND, Va. (AP) _ A celebratory gunfire bill inspired by the tragic death of a Virginia boy last summer is heading to Gov. Terry McAuliffe. The practice involves firing a weapon into the sky, often on New Year's Eve and July Fourth.
The Virginia Senate on Thursday unanimously approved legislation that provides stiffer penalties for those who maim or injure others with stray bullets.
The bill called "Brendon's Law," is named after 7 year old Brendon Mackey, who died after being struck in the head by a falling bullet at a fireworks show in central Virginia.
The bill raises the penalty to a Class 6 felony, eligible to receive up to five years in prison. The current law provides a penalty of up to one year and a $2,500 fine.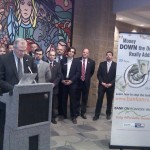 13 Bank On Roanoke Valley partners set a target of having one-thousand new accounts at local banks and credit unions over the next two years when they announced the program…participants made that vow in January. One way they figure to do that is by de-mystifying banking, loans, credit and other financial issues.  WFIR's Gene Marrano has more:

The American Academy of Pediatrics is advising parents to use their "medical home" instead of retail-based clinic. WFIR's Velvet Hall spoke with a local pediatrician to find out why…
Click here to read the article from the American Academy of Pediatrics.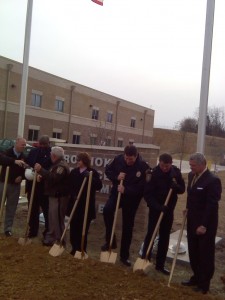 Roanoke area law enforcement officials and political leaders broke ground this afternoon on an addition to the Roanoke Police Academy off Peters Creek Road…the addition will make room for Roanoke County Police, the county sheriff's department and Western Virginia Regional Jail. Roanoke County Police Chief Howard Hall likes the idea of working more closely with his counterparts in Roanoke City. The 83-hundred square foot addition will cost 3-million dollars…most of the funding comes from an asset forfeiture account. Hall said it should be ready by next January.
Lt. Mike Williams runs the Roanoke County Criminal Justice Academy now, which is housed in cramped quarters at the county's public safety building. Williams said it will help build a better rapport early in the careers of law enforcement officers in both jurisdictions – which will be helpful when they have to work together.
(photo, text by Gene Marrano)

FLOYD, Va. (AP) _ Police say a body found in Franklin County is believed to be that of a 92-year-old Floyd County man who has been missing since last November. The Floyd County Sheriff's Office tells media outlets that an individual reported finding the body and a vehicle shortly before 5 p.m. Wednesday.
The sheriff's office says deputies from both counties went to the scene near the county line. They found the body near a vehicle matching the description of Robert Schmitt's vehicle. The body has been sent to the Medical Examiner's Office in Roanoke for identification.
Schmitt was last seen on Nov. 16, 2013. Police believe Schmitt opened a gate and drove into a field. The car then went about 100 yards down a ravine, hit several trees and landed near a creek.

Until a few years ago Virginia High School League semi-final basketball games at various classifications were played in Richmond on the Virginia Commonwealth University campus. Now there are Super Sites like the Salem Civic Center, as WFIR's Gene Marrano reports: