RICHMOND, Va. (AP) _ A federal appeals court has rejected an appeal of a Virginia death row inmate who killed two people during an escape — a hospital guard and Montgomery County sheriff's deputy. William Morva's attorney argued before the 4th Circuit Court of Appeals in March that he was improperly denied a chance to show that he wouldn't do it again if spared the death penalty. But a three-judge panel of the court rejected his claims Thursday and affirmed the lower court's ruling. Morva was in jail awaiting trial on attempted robbery charges in 2006 when he was taken to a Blacksburg hospital. He overpowered a deputy sheriff and used the deputy's pistol to fatally shoot an unarmed security guard. He fatally shot another deputy during a manhunt the next day. Morva's attorney didn't immediately respond to a message Thursday.

Growth in the still relatively-small solar power industry has been exponential in recent years – and a local company hopes to capitalize on that as WFIR's Gene Marrano reports:

UPDATED 12:15 pm — Roanoke Police report Shakhia has been located and is safe.
EARLIER: Roanoke, Va.-  On May 5, 2016 at 1:17 a.m. Roanoke Police received a missing persons report on Shakhia Launiece Pannell, age 12, of Roanoke. Family members told officers that Shakhia ran away from her residence in the 1300 block of Memphis Street SE.  She was last seen by family members at 10 p.m. on May 4th. Officers have been searching potential addresses and locations in an attempt to locate her.  Anyone having information on Shakhia's immediate whereabouts should call 911. If you have any information that might help find her, please call our tip-line at 540-344-8500. The family describes her as being 5'8" and weighing 200 lbs.  The family says she was wearing a red hoodie and black pants, and has a scar on her right wrist.  She was also wearing a silver Pandora bracelet and a pink "fitbit."

Feeding America has released its 2016 Map the Meal Gap study detailing food insecurity rates across the county. WFIR's Starr Anderson has more details on what the report shows in our region.
For the full 2016 Map the Meal Gap report click here.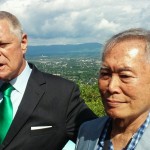 He played the iconic Mr. Sulu character on the original Star Trek TV show and in movies but George Takei is more than the typical actor. Takei's visit to Roanoke yesterday was prompted by Mayor David Bowers comments about internment camps for Japanese-Americans during World War 2. He also spoke with WFIR's Gene Marrano – here is a "Longer Listen":
UPDATE: State Police report Zion has been safely recovered. The Amber Alert is cancelled.
From VA-Amber Alert: The Spotsylvania County Sheriffs office is looking for 3-year-old Zion Clinton Amir Williams. He's 3'5″, 35 lbs. He is black and has brown eyes and brown hair. He was wearing a blue and white Cars diaper. Zion is believed to be in extreme danger and was last seen in Spotsylvania County.  He was likely abducted by 28-year-old Joshua Christopher Williams. He's 5'11" 160 lbs. he's black with brown eyes and black hair. He was last seen wearing a navy blue and gray sweatshirt and blue jeans.
State police say the suspect assaulted Zion's mother before he took him. The vehicle Joshua Williams was believed to be traveling in with Zion has been located but neither Williams or Zion have been found.
If you have any information contact the Spotsylvania County Sheriffs office at (540)582-7115 or Virginia State Police at 1-800-822-4453 (1-800-VACHILD).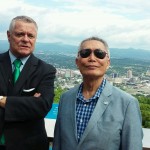 He played the iconic Mr. Sulu character on the original Star Trek TV show and in movies but George Takei is more than the typical actor. He spoke with WFIR's Gene Marrano during his visit to Roanoke yesterday:
The sudden departure of Ted Cruz from the  presidential race leaves many Cruz delegates with a decision on what to do — including most of Virginia's Republican delegates. Many of the state's GOP delegates who are required to select Donald Trump on the national convention's first ballot were prepared to support Ted Cruz if it got past that point. More from WFIR's Evan Jones.

An archive that preserves the history of the local LGBT community started – by a Roanoke College History Professor – has plans to create a unique learning experience. WFIR Intern Reporter Clark Palmer has more:

Members of the caregiving community or those looking to learn more about supporting people experiencing grief and loss may find an upcoming seminar helpful. WFIR's Starr Anderson has the details:
Oakey's presents:
Exploring the Paradoxes of Mourning: Enhancing Your Understanding of Three Forgotten Truths Featuring Alan Wolfelt
Thursday, May 12
9:00am-3:30pm
Cost is $45 (lunch included)
To register for the seminar call Debbie Moss at 800-638-0710 or 540-982-2100
For more details about Alan Wolfelt click here.