Feeding America Southwest Virginia is stocking up for those in need this holiday season. WFIR's Alexis Manley has the Story.

Trash collectors are gearing up for the busy holiday period. Roanoke City Solid Waste Manager Skip Decker says they expect an increase of about 20 percent over normal weeks. And he says they'll be compressing four days of trash collection into three days. He says Mondays are normal, but Tuesday, Wednesday and Thursday trash pickups are a day earlier.  He also has a request for when to put out that paper recycling.  WFIR's Jim Kent reports:

Rocky Mount's assistant town manager says the Harvester Performance Center that opened last April has been a big hit… Matt Hankins says Harvester general manager Gary Jackson is using 40 years of experience in the music industry to his advantage, helping to attract top acts … WFIR's Gene Marrano has the story:
RICHMOND, Va. (AP) — The Virginia Department of Transportation says it will suspend most highway work zones for several days over Christmas. VDOT says the goal is to limit congestion and provide as many travel lanes as possible. VDOT will lift lane closures on interstates and other major roads in Virginia from noon December 24 to noon Dec. 26. It will also lift the closures from noon on Dec. 31 to noon on Jan. 1.

RICHMOND, Va. (AP) _ Virginia regulators are concerned about the number of children's deaths at unlicensed day care facilities in the state. An analysis by the Richmond Times-Dispatch found that at least 51 children died at unlicensed facilities over the past 10 years, compared to nine deaths at state-licensed facilities. Department of Social Services director of family services Carl Ayers tells the newspaper that the disparity warrants additional study. He says the agency routinely looks at child fatalities in Virginia as a whole. It has never specifically studied child deaths at unlicensed day cares. The newspaper says investigators determined abuse or neglect contributed to 27 deaths in unlicensed day cares, compared to three in licensed facilities. No determination of wrongdoing could be made in the other cases.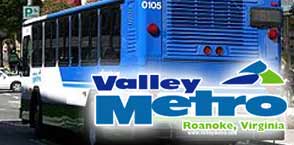 ROANOKE, Va. (AP) _ The Roanoke Valley's intracity bus system is continuing talks with a union after drivers and mechanics rejected a contract offer. Roanoke assistant city manager Sherman Stovall tells The Roanoke Times that Valley Metro officials were notified of the workers' vote on Friday. Amalgamated Transportation Union Local 1493 president Roger Brice says the Dec. 14 vote was unanimous. The existing contract has been extended until Jan. 15. Details of the negotiations haven't been released. Both sides say they are hopeful a new contract acceptable to workers can be produced. Valley Metro's buses connect the Roanoke and New River valleys. It also operates a bus service connecting with the Amtrak station in Lynchburg and a trolley service in Roanoke.
RICHMOND, Va. (AP) _ A Virginia lawmaker who recently submitted his resignation says he will not seek the Democratic nomination for the House of Delegates seat in a special election. Joseph D. Morrissey could still run as an independent or not at all. He said Saturday he will make that decision in the next few days. The 57-year-old Morrissey entered an Alford plea earlier this month in connection with charges that he had an improper sexual relationship with a teenager. The Democrat announced Thursday he had submitted his resignation but planned to run for the same seat in a Jan. 13 special election. The Richmond Times-Dispatch reports the Democratic Party members will nominate a candidate Monday.

RICHMOND, Va. (AP) — The Virginia Employment Commission says the state's jobless rate fell to 5 percent in November, marking the lowest rate in seven months. The state's seasonally adjusted unemployment rate was down from 5.3 percent in October and down from 5.3 percent a year ago. Increases were seen in professional and business services, professional, scientific, and technical services, management, leisure and hospitality, trade and transportation, manufacturing, government and finance. Jobs decreases were seen in industries including administrative and support services, construction, private education and health services, information, mining and miscellaneous services. The Labor Department says unemployment rates fell in 41 U.S. states in November, rose in three states and were unchanged in six. The national unemployment rate was 5.8 percent.

RICHMOND, Va. (AP) — Virginia will receive $321,000 from T-Mobile US over billing for unauthorized charges. Attorney General Mark Herring announced the state's portion of the settlement Friday. The Federal Trade Commission says T-Mobile is paying at least $67.5 million in refunds to affected customers plus $18 million in fines to the 50 states and the District of Columbia, and $4.5 million in fines to the Federal Communications Commission. The settlement is over billing for a practice known as "cramming" in which customers get subscriptions to text services like $9.99-per-month horoscopes, ringtones or celebrity gossip updates that they didn't want or authorize. Herring says more than 153,000 T-Mobile customers in Virginia may be eligible for restitution.

A cel phone tower almost 200-feet tall has been proposed in the Roanoke County community of Bonsack … some residents like are speaking out against it for several reasons … AT&T is looking for a special use permit, saying it needs better service in the area … the county takes up the issue in January. Bonsack resident Lori Grella Foster spoke with WFIR: