On 11/25/2015, Detectives from the Roanoke County Police Department were able to locate Mr. Dwight E. Harmon, who was wanted on multiple outstanding felony charges. Mr. Harmon was taken into custody without incident and transported to the Roanoke County Salem Jail where warrants for Burglary and two counts of Grand Larceny were served. Mr. Harmon is currently being held without bond. The Roanoke County Police Department would like to thank Roanoke Police Department, as well as the public, for all of the tips and information provided to bring this matter to a successful conclusion.
(Continue reading for previous news release.)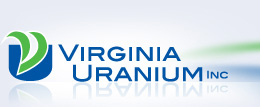 News release: Virginia Uranium, Inc., the Chatham, Virginia-based company that owns one of the world's largest uranium resources, located in Pittsylvania County, has filed a lawsuit in the Circuit Court of Wise County, Virginia, against Governor Terry McAuliffe and other officials of the Commonwealth. The suit asks the court either to order the Commonwealth to permit the plaintiffs to exercise their fundamental property right, under Virginia's Constitution, to mine uranium situated on their property, or to provide compensation for taking plaintiffs' property. "We have worked exhaustively for years to satisfy concerns about our plan from our neighbors, local elected officials, state legislators and other public officials," said Virginia Uranium, Inc. President and CEO Walter Coles, Sr. "We have made clear that we intend to construct and operate the safest and most modern uranium mining operation in the world. However, the decision by state elected officials to preserve a ban that prohibits us even from applying for a permit to mine uranium has forced us to turn to the courts for remedy. Our goal is, and always has been, to responsibly tap a natural resource on our own private land as a business enterprise that will reward investors as well as strengthen our regional and state economies and contribute to national security by providing a clean, domestic energy source."
(Continue reading for the rest of the news release.)

Blue Ridge Literacy in Roanoke has added a program that is drawing it closer to the local Hispanic community. WFIR's Gene Marrano has more:

Putting more focus on education and conservation is just one of the changes Mill Mountain Zoo is making. WFIR's Starr Anderson has more details on what the zoo has in store:

Previously the state denied allowing a passenger platform in Bedford, but after further research the Bedford/Franklin Regional Rail Initiative asked the town council last night for an Amtrak stop. More from WFIR's Ian Price.

Just in time for Black Friday and the holiday shopping season Virginians are more upbeat about the economy – that's good news for retailers as WFIR's Gene Marrano reports:
Today is always a very busy one on the highways, but this year, the traffic could be even heavier than usual — thanks to lower gasoline prices. More from WFIR's Evan Jones.
RICHMOND, Va. (AP) _ The Virginia Department of Transportation is smoothing the way for travelers by suspending highway work zones during the long Thanksgiving holiday. Starting noon Wednesday, lane closures will be lifted on most major roads in Virginia. The action is intended to ease congestion on interstates and major highways. The lifting of the lane closures will continue through noon Monday. VDOT says Thanksgiving traditionally is one of the busiest times travel times for state highways and roads. VDOT offers real-time information about traffic, incidents and congestion at 511Virginia.org. Based on traffic data, the heaviest congestion during the most recent Thanksgiving holiday weeks occurred after 11 a.m. on Wednesday and from 10 a.m. to 10 p.m. on Sunday.
Windsor Hills District school board member Jason Moretz and incoming Cave Spring District member Mike Wray will be holding a South County community meeting at 6pm on December 2 at Cave Spring Middle School. This meet and greet will serve as an opportunity to express any comments or concerns with Moretz and Wray. Roanoke County Public Schools Superintendent Dr. Greg Killough will also be in attendance.

From Botetourt County: Consultants hired to determine the economic opportunities available in the Exit 150 area of Botetourt County reported yesterday that the area has the potential to support significant new retail, hotel, and housing development. RKG Associates told members of the County's Board of Supervisors that there is underserved retail demand from households from Exit 150 north to Covington and Lexington and from travelers along Interstate 81. They also reported that there is opportunity to attract upper midscale hotels and to develop apartments and townhouses that could appeal to and attract younger residents. Specifically, the consultants estimate that the area where Interstate 81 and US Routes 220 and 11 converge has the potential for between 215,000 and 328,000 square feet of new retail development, ranging from restaurants to auto parts and sporting goods stores to a specialty fashion center or outlet mall.  The consultants cautioned that achieving the potential of Gateway Center — the name given the area by County officials — assumes that "suitable sites can be provided in the future to accommodate these uses."