CHARLOTTESVILLE, Va. (AP) -A University of Virginia dean says a perception issue stemming from a magazine article about an alleged gang rape on campus affected an administrator's ability to work with students.Dean of Students Allen Groves testified yesterday  in a defamation lawsuit against Rolling Stone magazine over a now-retracted article about a student who said she was gang raped in 2012.WVIR-TV reports that Groves said Nicole Eramo, then the associate dean of students, lost the title of dean and was moved out of her office in March 2015. He said the university believed Eramo was able to do her job, but had to deal with a perception issue after the article appeared.Eramo is suing the magazine for $7.5 million, saying she was cast as the story's "chief villain."

Roanoke planners are in process of updating a long-term vision for the city's downtown, and part of that process involves hearing from people who live, work or do business there. More from WFIR's Evan Jones.
Click here for more information on the Roanoke Downtown Plan process.

An all-day symposium taking place tomorrow – repeated in its entirety on Saturday – is designed to warn firefighters about a growing health risk. More from WFIR's Gene Marrano: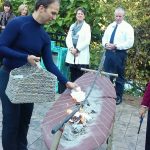 As part of its Healing Arts Program the "Burden Boat" displayed in the lobby at Carilion Roanoke Memorial Hospital was carried down to the Roanoke River Greenway today – where hundreds of written messages expressing sorrow, anxiety, fear and other emotions were burned in it – as a symbolic release of those troubles. This was the fourth time messages written and left in the "Burden Boat" were burned in the Keeley Healing Arts Garden near the hospital – part of a ceremony that included prayers and poetry. Marie Webb is with Carilion's Healing Arts Program: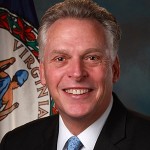 Governor McAuliffe is criticizing reports that a campaign donation from his "PAC" may have influenced the outcome of a high-profile FBI probe. More from WFIR's Gene Marrano:

A sandwich stop with a loyal following is still foreign to many in the Roanoke Valley. WFIR's Ian Price has details on a franchise that's expanding rapidly in our area:

Roanoke City police has released the names of those wounded and killed in yesterday's incident at Freight Car America in Roanoke: Daniel Wesley Brown, age 56, of Montvale [deceased]. Keith Dwayne Law, age 31, of Rocky Mount. Gary David Koran, age 32 of Roanoke. Travis Jose Valderrama, age 31, of Catawba.
I

About 150 Appalachian Power personnel are carrying out a company-wide exercise today in efforts to better prepare for and deal with mass power outages from severe weather events. More from WFIR's Evan Jones.

A Virginia Tech professor calls it "The Frenemies Project,"a way to get around heated political disagreements and find mutual understanding. More from WFIR's Gene Marrano:
UPDATED TUESDAY 3:30 pm –– Roanoke Police say the man who shot four workers today at Freight Car America, killing one of them before taking his own life, is a former employee there who was terminated in March of this year after failing to show up for three consecutive days. Police Chief Tim Jones says Freight Car America saw no signs of trouble between that time and today's shootings. The gunman is identified as 53-year-old Getachew Fekede, who came to Roanoke in 2011 from Kenya as part of an immigrant refugee program. Chief Jones says Fekede arrived at the plant this morning by bicycle, but it is unclear how he was able to get through the workplace perimeter. Police says he fired ten rounds in all. Two of the three workers he wounded remain hospitalized, and a third has been released after treatment. Police are not yet releasing the names of any shooting victims.

From Roanoke City Police at 10:00 am: Here is what we know for sure and have verified about the incident at Freight Car America:
– We received the call at approximately 6:08 am.
– Two individuals were confirmed dead in the facility. One is believed to be the suspect.
– Three other individuals were transported to Carilion Roanoke Memorial Hospital for treatment of injuries related to this incident.
– None of the responding officers fired their weapons.
– There is zero indication of any further threats to the public at this time.
– A large law enforcement presence remains on scene conducting the investigation and performing a protective sweep of the entire facility.
Thanks to all of our law enforcement and public safety partners who are assisting us with this incident, including the Roanoke City Sheriff's Office, the Roanoke County Police Department, Virginia State Police, the Norfolk Southern Police Department, and Roanoke Fire-EMS.