Governor Bob McDonnell is under investigation over financial statements he has filed — a probe initiated by Attorney General Ken Cuccinelli. The Richmond Times Dispatch says the process started last November but has just become public. Cuccinelli appointed  a special prosecutor to examine the governor's statements. Under Virginia law, elected officials are required to account for all gifts of more than $50. The investigation follows disclosures surrounding the governor and first lady Maureen McDonnell's relationship with Jonnie Williams Sr.  He is the CEO of Richmond area dietary supplement maker Star Scientific.
Click here for the full Richmond Times-Dispatch story

A high-ranking Norfolk Southern executive says the railroad's recent closing of the Roanoke hump yard is already producing the desired financial results. A railroad senior vice-president told an investors conference the move has resulted in "solid cost savings" with no disruptions to service. WFIR's Evan Jones has the story.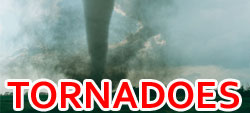 While an EF5 Tornado like the one that touched down in Oklahoma is unlikely here, twisters can still do lots of damage in our region.  WFIR's Timothy Martin explains.

Virginians are quickly responding and mobilizing to help tornado victims in Oklahoma. One of the most active organizations is Danville-based God's Pit Crew, which is sending trucks filled with water, Gatorade and personal hygiene products. They work with local faith-based organizations to distribute their "Blessing Buckets". WFIR's Evan Jones has the story.
Click here for the God's Pit Crew website.
There is a collection site today and tomorrow at the Bonsack Walmart.

A steady procession of cars and vans is delivering donated bottled water for delivery to Oklahoma tornado victims.  Our sister station K92 is asking listeners to bring cases of bottled water to the station, and the response has been virtually non-stop all day. WFIR's Evan Jones has the story.

The Red Cross Roanoke Valley Chapter is preparing to send volunteers to hard-hit areas of Oklahoma. Some are trained to operate a mobile kitchen, others are prepared to set up or operate shelters for tornado victims, and some are prepared to provide mental health counseling. WFIR's Evan Jones has the story.
Click here for information on making donations to the Red Cross
A noted Richmond political expert expects the Ken Cuccinelli campaign for governor to take a direction that may "confound" many  people. Bob Holsworth expects Cuccinelli's Republican campaign to adopt a populist theme, one more typically associated with Democratic candidates. Holsworth says Cuccinelli needs to go beyond attacks on federal government overreach and address concrete state issues to be successful. WFIR's Evan Jones has the story.

Police departments from all over the area gathered yesterday on the Blue Ridge Parkway to kick off the Regional Click it or Ticket campaign.  WFIR's Timothy Martin says police will be out in force over the next two weeks.


The freshly-nominated statewide Republican ticket touched down in Roanoke today as part of a three-day fly-around tour of Virginia.  GOP convention delegates selected Ken Cuccinelli, E.W. Jackson, and Mark Obenshain as the party nominees for Governor, Lieutenant Governor and Attorney General over the weekend. WFIR's Evan Jones reports on their Roanoke visit.

Virginia's new transportation funding bill appears ready to speed up VDOT plans for new safety measures on Fancy Gap Mountain on Interstate 77, where heavy fog sometimes leads to big pileups. VDOT wants to install a variable speed limit system to slow traffic when fog moves in, but it never had the funding. Now, pending final approval next month, VDOT will be able to advertise bids for such a system by June of next year. WFIR's Evan Jones has the story.