Roanoke County Supervisor Charlotte Moore says she is taking it upon herself to keep providing the county software designed to track and reduce carbon emissions in the county. Her colleagues recently voted to discontinue county membership in "ICLEI", an organization that provided that software, but Moore says the environmental benefits are too important to lose.
So Moore has personally joined "Resilient Communities for America", which is an arm of "ICLEI". How this might go over with other supervisors is unclear, but it seems sure to come up at a supervisors' environment-related work session next Tuesday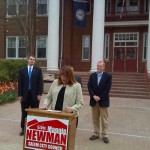 For the first time in 20 years a City Council candidate will run as a Republican in Salem. Maggie Newman received an endorsement today from two prominent GOP politicians – state Senator Ralph Smith and Congressman Morgan Griffith. She wants to see City Council stop giving away a million dollars a year to non-profits, and Newman would also like for Salem's municipal elections to be moved to November. She spoke with WFIR's Gene Marrano about that:

Next weekend's Down by Downtown Music Festival and the Blue Ridge Marathon will also bring RV's and pop-up campers to Roanoke. WFIR's Gene Marrano explains:
State Police are working to determine whether a convicted child sex offender interacted at all with children at a Roanoke day care center. Police an anonymous tip led them to the Shining Star Family Center where they found James Floyd IV using a computer. Floyd is on the state's violent sex offender registry and is not permitted in day care centers. WFIR's Evan Jones has the story.
One of the few areas of contention among Roanoke City Council candidates at several forums seemed to center on interpreting crime rate trends. WFIR's Gene Marrano reports: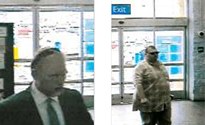 Authorities are asking for help identifying two men suspected of using stolen credit cards at stores in multiple jurisdictions. Police say the men may be targeting college campuses along the Interstate 81 corridor.
NATURAL BRIDGE, Va. (AP) _ An emergency official says two Washington & Lee University students were chilly but uninjured after they became lost while hiking and spent the night in the James River Face Wilderness.  Rockbridge County Emergency Management coordinator Robert Foresman says searchers reached the students around 4:15 a.m. Thursday at Devil's Marbleyard.  Foresman says the students were among four who were hiking at Devil's Marbleyard on Wednesday evening when they became lost. The other two students were quickly found.   He says one student rescued Thursday was wearing a T-shirt and shorts. Temperatures dropped to around 28 degrees Wednesday night.   One firefighter twisted a knee during the search. Another was taken to a hospital after feeling ill. Devil's Marbleyard is an inclined rock field of boulders.

Those lucky enough to get through to Jefferson Center this morning for Sheryl Crow tickets can look forward to her July 31st concert at the new Elmwood Park amphitheater. But a low $15  price helped create a huge demand that overwhelmed the Jefferson Center's website and the box office phone line. WFIR's Gene Marrano has the story.
RICHMOND, Va. (AP) _ The Virginia Supreme Court has upheld a judge's decision rejecting a conservative group's attempt to obtain a former University of Virginia climate researcher's emails.   The justices on Thursday agreed with retired Arlington Circuit Judge Paul Sheridan that Michael Mann's emails are exempt from the Virginia Freedom of Information Act.   The records were sought by the American Tradition Institute, which disputes the assertion by Mann and other climate scientists that decades of heat-trapping carbon gas emissions into the atmosphere are responsible for global warming. Republican state Delegate Bob Marshall joined the institute in seeking the records.  According to the court, the emails are proprietary records exempt from disclosure because they deal with academic research.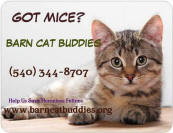 Need a cat to chase after mice in your barn or garden? Barn Cat Buddies wants you to know April is "Adopt a Barn Cat Month". WFIR's Gene Marrano has details: